Northampton Saints choose Saint Crispin for the perfect team sign up…. To create stylish corporate hospitality team wear!
It's not just the ground getting a makeover at the Northampton Saints this season – the corporate hospitality team will now be sporting their own new team colours!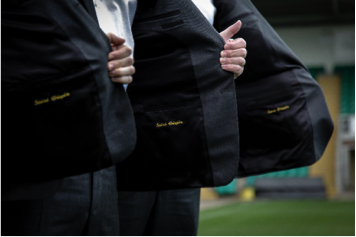 Emphasising the exceptional level of service corporate customers will soon be able to expect at the new Barwell Stand, Saint Crispin Bespoke Menswear was selected to create the bespoke corporate hospitality team uniform that oozes style and sophistication, in keeping with the new air of professionalism that the new hospitality unit will offer the top-flight premiership rugby team.
Edwin Turnham, Corporate Sales Manager at the Saints said: "The development of the new Barwell Stand will complete our dedicated rugby stadium and provide more great facilities for our supporters. The new stand and world class corporate hospitality facilities will enable local businesses to entertain clients and showcase rugby on their doorstep. We felt our corporate hospitality team really needed a makeover that could match it!"
He continues: "We needed something that is practical, hard-wearing and yet comfortable. These smart and professional suits created by Saint Crispin Bespoke Menswear are the perfect finish to the exciting developments at the Saints home ground."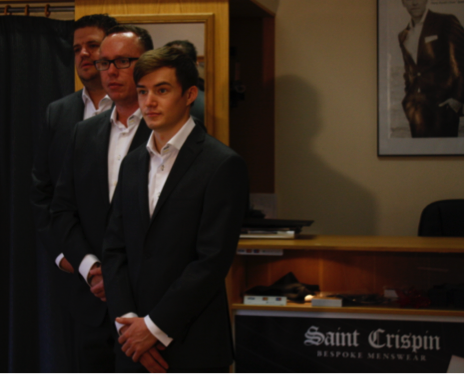 The smart, professional bespoke two-piece charcoal-coloured suits are designed for all year round comfort, and made of quintessentially British range grey cloth with a wool cashmere blend.
Each have subtle hints of the Saints team colours, with button hole detailing on sleeves and felt collar blocks in the Saints colours with the team members names embroidered for added individuality. Worn with a white shirt made of 100% cotton twill fabric, with button detailing in green, black and gold.
"As an avid Saints fan, I'm thrilled to be working with the club to design their corporate hospitality wear, there are many synergies between the club and Saint Crispin – the Saints train to give the best performance, and I've trained to give the best tailored fit. I couldn't be happier to support the team in this way"
Dean Anderson, Founder of Saint Crispin
Sportsmen often have trouble finding good suits that fit off the peg, so here at Saint Crispin we create bespoke suits tailor-made to fit all shapes and sizes. This means you'll never drop the ball and always have a smart, professional suit that fits perfectly – what a winner!
---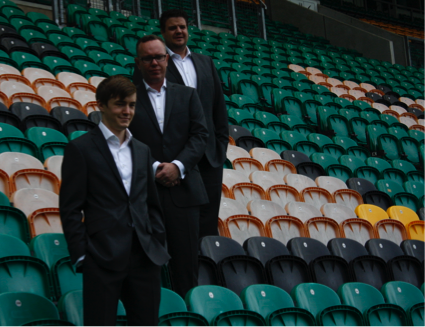 Would you like to experience the benefits of bespoke just like the Saints?
Simply call or book an appointment to discuss your individual needs