Not just for your big day but for every big day after,
that's a bespoke wedding suit from Saint Crispin.
Nothing quite matches that feeling of having something 'made for you' that looks flattering on the body, feels comfortable to wear and says all the right things about you. So why buy 'off the peg' and risk costly alterations to have a good fit when you can invest in a suit that will last, need no alterations and save you money in the long run?
And with bespoke made-to-measure suits starting from just £550 – you really don't have to be extravagant to be extraordinary.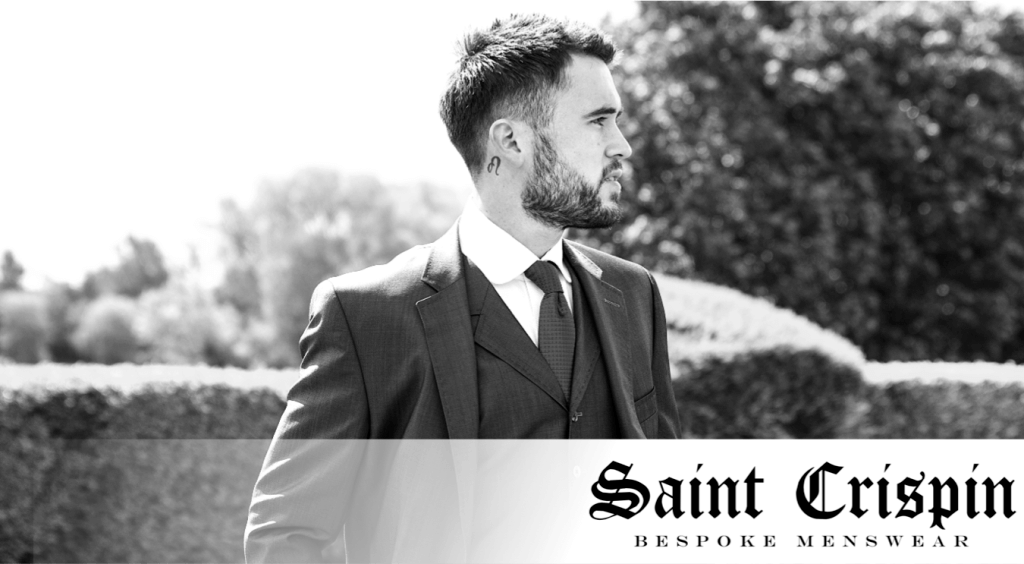 Wedding Style when the heat is on 
Don't sweat it out at your August wedding – when temperatures soar ensure your comfort and remain cool and composed with a light weight bespoke suit.
With our range of lightweight tweeds, perfect for that summer wedding, simply choose the lightest of materials and add our distinct details and flamboyant flair. Don't forget to also remain smart when you remove your jacket – simply choose accessories such as matching waistcoats, detailed shirts or even bespoke lining options that can completely complement your colour theme.
Your perfect leading man
Whether you go all Bond with a tuxedo or sophisticated suave suit, the fit is all important for the leading man in your life. Here at Saint Crispin Bespoke Menswear, make sure your suit fits impeccably while being 100% individual for the biggest day of your life.
Buy smart and obtain the right accessories, you will be surprised how much versatility you can get out of one durable suit and with 67 different fabric combinations to choose from if you are looking for that special statement suit for your big day seek further impartial advice from a fully insured company.
Call for an appointment or visit us at Saint Crispin Retail Village, Northampton NN5 4DR