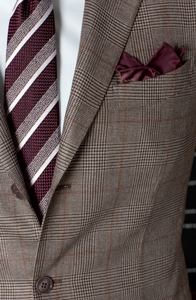 Your bespoke suit is a piece of design engineering that relies on many individual components made to fine tolerances in order to look as good as it does, continue to look good and perform well for years to come.
Like any thoroughbred, after the initial purchase you will get the most out of your suit if you entrust it to the care of an experienced dry cleaning professional.
Care for your clothes regularly by using a good quality lint roller or clothes brush.
Let us also take care of your dry cleaning, just drop off your garment to us. It's all part of the service to our customers.
At Saint Crispin, we work closely in partnership with Bradleys Quality Dry Cleaning, a family textile care business based in Milton Keynes.

Founded in 1912  Bradleys Quality Dry Cleaning has provided specialist dry cleaning services to everyone from Mr Winston Churchill to Bridget Bardot.
Visit their website here: http://www.bradleysqualitydrycleaning.co.uk/
---
Key Care Guidelines
Stains should be blotted immediately and not rubbed.
To help maintain the shape of your suit, hang your jacket on an appropriate hanger that supports the shoulders.
Always hang your trousers vertically.
Avoid placing items in your pockets as this will put strain on the seams.