Spring: summer's on it's way and everyone can feel it, but when the sun goes in for 5 minutes the temperature drops depressingly quickly. The best way to deal with it? Layering. This is your essential Saint Crispin guide to staying smart this season and nailing spring layering.
When you're dressing for an occasion or the office, the key is to not go overboard when it comes to layering. You don't want to end up looking like the Michelin man!
Even more importantly, in winter layering means throwing on vests and all the jumpers you own. But in spring this would leave you sweltering in unexpected heat. It is better to opt for smart layers that can be easily thrown off and on again – think lightweight blazers, jumpers, and thinly padded nylon or cotton raincoats.
The fit is essential. Now that summer is around the corner, we recommend going for a slightly more relaxed fit than normal. This will leave you room to breath and feel much more comfortable too. Saint Crispin Bespoke Menswear can create immaculately fitting garments for you, so you always look your best, whatever the weather.
Don't forget about colour: it is almost expected in spring! Pastels and lighter shades work really well, as do beige and neutrals. Classic raincoats and blazers in cream, white or beige are wardrobe essentials for every man's spring wardrobe. If you don't fancy going too light, try a mid blue jacket instead – it's surprisingly versatile and appropriate for most occasions.
Fabrics should be light and breathable. Try opting for linen, cotton and blends of both. These help regulate body temperature so you won't build up a sweat.
A range of lightweight sweaters and cardigans are also essential to get you through spring, summer and autumn on those chilly mornings and evenings. A selection of v- and crew-neck pullovers in grey and navy will never fail you, and look great when thrown over white or light blue shirts for the office.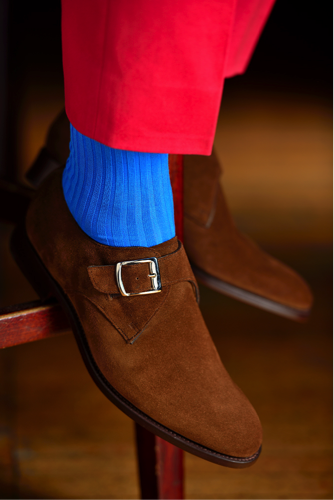 Finish your spring wardrobe off with a comfortable yet smart pair of monk straps, like these from Barker Shoes.
Book an appointment today to get fitted up for your spring capsule wardrobe.
---